TE-5064 Antiwear Hydraulic Fluid Additive Package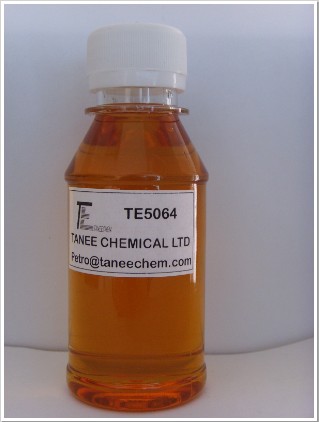 TE-5064 is a fully formulated thermally stable ashless antiwear hydraulic fluid additive package for use in both high and low pressure hydraulic system for industrial and mobile applications.
TE-5064 is recommended at 0.9-1.0%wt in suitable base stocks to prepare premium ashless antiwear hydraulic fluids.
Tipical characteristics
Specific Gravity,20℃,g/cm3
Performance
Hydraulic fluids formulated with T5064 meet or exceed the requirements of industrial and mobile hydraulic systems such as:
GB 1118.1-94
ISO 1158-97
Vickers M-2950-S
Cincinnati Milacron P-68,P-69,P-70
DIN 51524(Ⅱ)
U.S.Steel 127
Denison HF-0
Benefits
Proven field performance
Outstanding thermal and oxidation stability
Superior hydrolytic stability
Good demulsibility
Excellent rust protection
Lower filter blocking tendency
Unloading, storage and blending instructions
In general, the use of neoprene or nitrile rubber gloves and safety glasses or chemicals splash goggles.
When unloading, storage and blending, the temperature should be kept under 60℃ and long-term storage temperature should be kept under 45℃.
Combustible, Flash point(open) is 148℃,keep away from fire.
Washing applied jf skin contacted by the product.
Packge
200L steel drum, net weight 200kg/drum