ZINC BUTYL OCTYL DITHIOPHOSPHATE
T202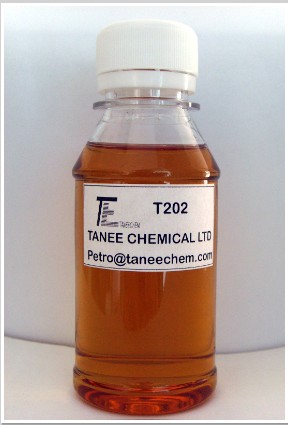 1. DESCRIPTION
The product is an amber transparent liquid, prepared from butyl octyl thiophosphoric acid. It provides the lubricant with fine anti-oxidation/corrosion, antiwear, thermostability, hydrolytic stability and certain extreme pressure performance, effectively control lubricant viscosity increase due to oxidation.


2. APPLICATIONS
The product is a general purpose multi-effect additive which is widely used in a variety of lubricating oils for industrial applications such as those for internal combustion engines, hydraulic facilities, gear, bearing, slideway and metal working oils, etc.The dosage is from 0.5% to 3.0%.
3. CHARACTERISTICS
Flash Point (open cup), °C
Kinematics Viscosity (100°C), mm2/s
Thermal Decomposition Temperature, °C
4. PACKING AND STORAGE
The packing, marking, transportation, storage and delivery acceptance should meet the requirements of SH/T0164. It is packed in 200 litre metal drum. Store in dry, clean and ventilating warehouses.